Glass Options
As standard our windows use clear non-toughened glass. The spec is a 4mm low iron outer pane, 16mm argon filled cavity with black warm edge spacers and a 4mm softcoat low E inner pane. We can also offer toughened glass or patterned glass where required. The options and regulations for this are below.
Spacer Colours
Our glass has a 16mm cavity as standard, which uses a warm edge spacer to make the cavity. This edge spacer can be supplied in either black, grey or white. We default to black as this tends to go with all colours and finishes. Where duplex spacers are present, the duplex is done in matching aluminium colour, so black will have very dark bronze duplex, grey will have silver and white will have white duplex. Unless you choose otherwise, we will provide the black spacers.
Toughened Glass
The below diagram is taken from the official building regulations and shows where toughened glass is required. Please let us know if your windows need to be toughened.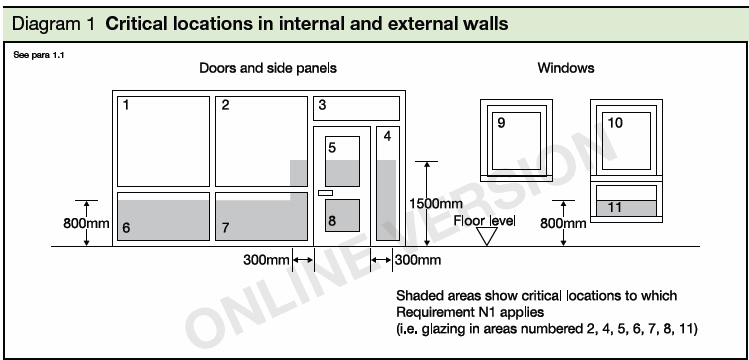 Patterened Glass